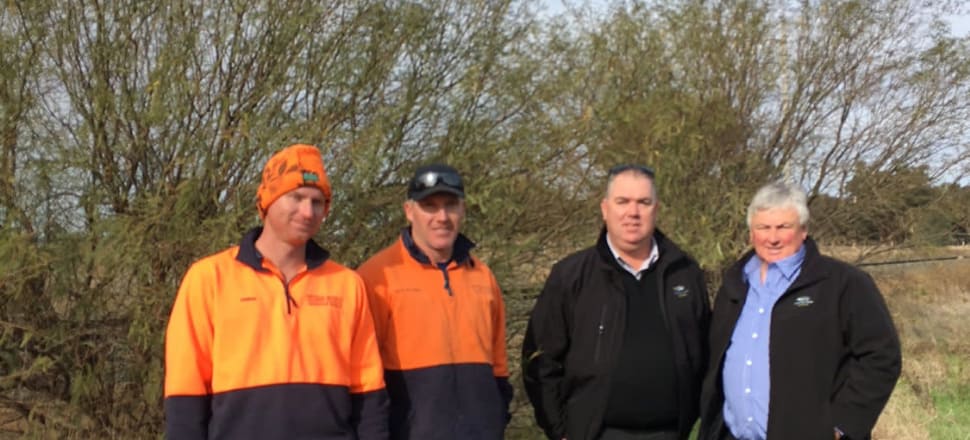 5370537724001
ONE of Australia's worst weeds has been found near Moama.
And local authorities are acting fast to eradicate it before it spreads any further.
Central Murray County Council senior biosecurity officer for weeds Jarrod Guy found about 20 mesquite plants on Mathoura Line Rd, 30km north of Moama, earlier this month while carrying out road inspections.
''I am investigating a few properties and hope to God it's not there,'' he said.
Mesquite is a weed of national significance and is regarded as one of the worst weeds in Australia because of its invasiveness, potential for spread and economic and environmental impacts.
''A mature plant can produce up to 260,000 seeds in a lifetime,'' Mr Guy said.
''Animals eat the sweet seed pods and spread the seeds that way.
''It's one of the hardest weeds to get rid of. There was an infestation in Jerilderie 15 years ago and it's travelled 200km to here.
''If we don't control this weed, it will devastate crops, agriculture and the environment.
''We don't want it to cross the border into Victoria.''
Mr Guy said plants averaged about 4m in height but could grow up to 15m high.
Central Murray County Council weeds officers have cut the mesquite plants and applied a chemical paste to the exposed stems to poison the plants.
Murray River Council parks and open spaces manager Luke Keogh said this was the first identified outbreak of the invasive weed within the local council area.
''Whilst the weed is of concern, council is hopeful that it is an isolated infestation,'' he said.
''Further inspections around the site are being conducted to ensure no other plants have germinated and the site has been reported to NSW DPI as part of the legislative requirements when mesquite is identified.''
Mr Keogh encouraged landowners to familiarise themselves with the plant and check their properties.
''The mesquite plant is very similar to local acacia species and understanding the characteristics of the plant will assist with identification,'' he said.
''If they find or suspect they have identified a mesquite plant they should report it immediately to the local control authority, Central Murray Council in the Moama and Murray wards or to council's weeds officers in the Wakool ward.''
He said council would be working with all weed control agencies and landowners to provide advice and management services to help identify and eradicate this highly invasive plant species.
''As with any invasive weed, a joint effort is required to maximise effective control,'' he said.
''If residents believe they have located a mesquite plant, they should advise council to arrange an inspection.''